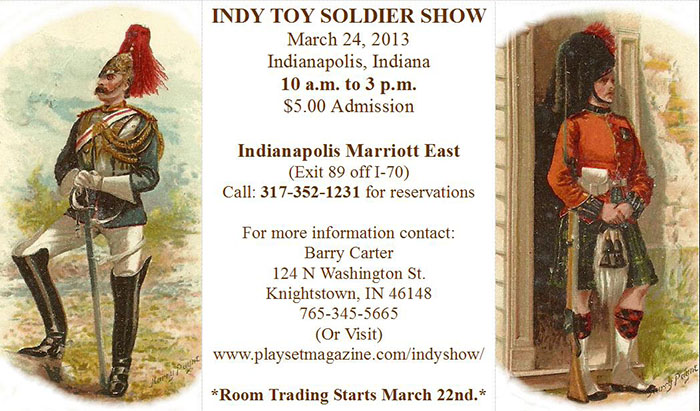 Just a reminder that the
Indianapolis Show
is coming right up. March 24th, mark your calendars! The new hotel is great, a lot more light in the ball room, and even though last year was the first year for the new venue, I had my best year of sales ever!
This year you can expect more of the same from my table (I haven't actually turned in my registration yet, but it's in the mail today, I promise!!). I'll have lots of plastic, new and old. I'm digging deep into my collection and selling off lots of duplicates, and I'm not going to try to sell them at collector prices, but reasonable, so you can take them home and enjoy them. A lot of Airfix recasts, some original and recast Marx, ESCI, TimMee, Accurate, Imex, Italeri, whatever I can find that I don't really need anymore.
I should also have a fairly healthy supply of TSSD and Paragon figure sets. Probably need to stock back up, as those get wiped out every year pretty quickly.
I'll have a few foam scenic pieces as well, some cast offs that I don't need anymore, and some brand new straight from the manufacturer. It'll be a mix of stuff, but it saves on shipping when you can buy it at a show!
And of course, I'll have plenty of my Confederates there. Buy a few bags, and I'll make you a deal!
And... if all goes according to play.... maybe a finished sculpt of our new figure set. These things take time though, and not sure if it'll be done yet or not. I'll keep you up to date as time gets closer.
Rock on!