We're just a few weeks away from the Indianapolis Toy Soldier Show, and it's going to awesome rockin' fun, no doubt about it. You can see a
vendor list here
.
I've been in contact with Gene at
Paragon Scenics and Miniatures
, and I'm going to have pretty much a full compliment of his items available at the show, including his Mountain Fortress set. I'll only have one of them, and I doubt there will be another at the show, so if you want it, be sure to come see me early. It's a six piece foam set full of little hiding places and ledges for your Cavalry and Apaches.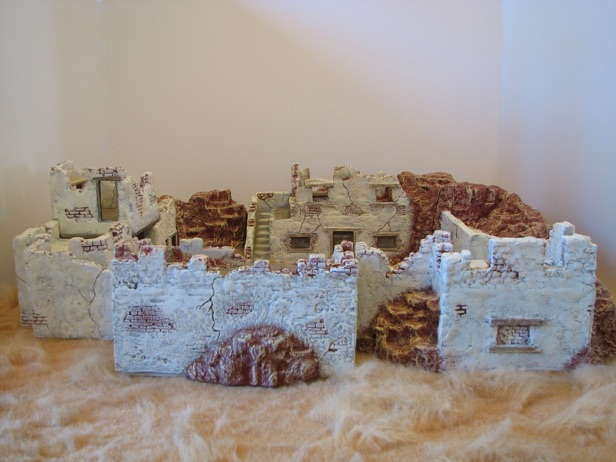 Paragon Scenics New Mountain Fortress
I'm planning on calling Nick at
TSSD
tonight and stocking up on some Romans and Barbarians for the table as well. Might even spring for the Marching Fort, but it'd be hard to part with it once I got it into my hands.
Speaking of Romans, Stephanie (my amazingly talented Art School graduate wife) is going to try her hand at painting some of the new TSSD Romans. I've promised her that whatever she's able to paint and sell will go straight into her own pocket, which is only fair. I'm the WORST painter in the world. I'm not kidding.... the worst. I screw up when I prime a figure, much less paint them.
Anyway, looking forward to seeing you all. Be sure to stop by and say Hi!